Play for Real Money Using 'PayNearMe'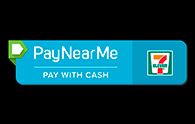 What is PayNearMe?
PayNearMe is a popular, easy and safe way to instantly transfer cash to your PokerStars account. It works with a bar-coded PaySlip that can be used at 7-Eleven stores in New Jersey. To make a payment, simply present your PaySlip along with your cash to the clerk at any 7-Eleven store and your PokerStars account will be credited immediately. The PaySlip is personalised to your PokerStars account, and you can re-use it multiple times.
To find the nearest location to you, please click here.
Please note: At this time, PokerStars deposits can only be made at 7-Eleven stores in New Jersey.
How can I deposit at PokerStars using 'PayNearMe'?
All you have to do is visit the 'Deposit' section of the Cashier, select 'PayNearMe' and click 'Make a Deposit'. In the 'PayNearMe' deposit screen simply enter the amount of your deposit and click the 'Submit' button. You will be redirected to the 'PayNearMe' webpage, where you can either print off the PaySlip, or select the 'Mobile' option where you will be prompted to enter your mobile telephone number. An SMS will be sent to your mobile phone which will allow you to view and save your personalised Payslip linked to your PokerStars account.
Your PaySlip can be taken to any 7-Eleven store where you can pay cash to instantly fund your PokerStars account. You will be provided with a confirmation receipt.
Your PayNearMe PaySlip can be used as many times as you wish (subject to deposit limits - see below). If for any reason you need a new PaySlip you can create a new one in the PokerStars Cashier.
What are the deposit limits for 'PayNearMe'?
Please visit the Cashier for your current deposit limits. Please note that PayNearMe may impose transaction limits in-store.
What about my cashouts?
PayNearMe does not support cashouts. Please visit our Cashout Policy for full information.
What will it cost me to use 'PayNearMe' at PokerStars?
PokerStars does not charge any fees for using PayNearMe.
If you have any further queries, feel free to contact us at paymentservices@pokerstarsnj.com.