VIP Steps - Your Route to Rebates and Rewards
VIP Steps is the method of earning StarsCoin. Players see a progress bar on the table - filling the progress bar will complete your current Step and release the indicated amount of StarsCoin into your account.
You're able to see at a glance how many Steps you need to complete in order to maintain your current VIP status for another month, as well as how many Steps away you are from achieving the next VIP status. Plus, every 5th Step you complete unlocks a bigger StarsCoin reward.
VIP Steps - Frequently Asked Questions
What is StarsCoin?
StarsCoin is PokerStars currency you earn by completing Steps. You can spend your StarsCoin in the VIP Store on a variety of rewards.
How do I complete a Step?
You complete the progress bar and advance a Step simply by playing real money games! The progress bar fills as you earn VPPs. For more information about earning VPPs, click here.
How do I maintain or earn a new VIP status?
Click on your progress bar to bring up an expanded view which will tell you how many Steps you have completed and how many you need to complete to either maintain your status, or achieve a new VIP status.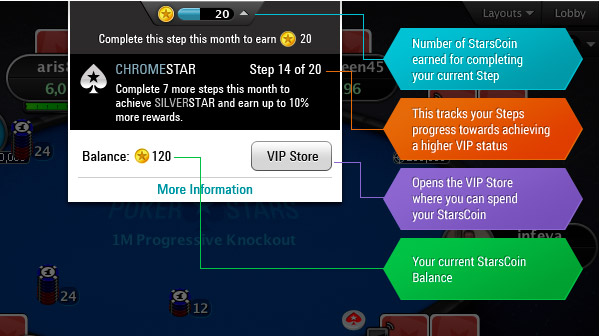 When there is less than 48 hours remaining in the month and you are close to maintaining or earning a new VIP status, you will receive an alert on your progress bar. Open the expanded view to see exactly how much time you have to complete the Step(s) required to maintain or earn the relevant VIP status.
Example: At the start of the month a SilverStar VIP will see that they have to complete five Steps to maintain SilverStar status for the following month. Once those five Steps are completed, they will see that they have to complete 20 additional Steps that month to achieve GoldStar status.
Note that it takes 100 VPPs to achieve ChromeStar, 500 for SilverStar, 2,000 for GoldStar, 4,000 for PlatinumStar and 6,000 for Supernova. Steps help you to see your progression towards achieving or maintaining a VIP status.
What happens if I don't complete a Step?
Players have until the end of the month to complete their current Step. When the next month begins, you will start on a new Step associated with your VIP status.
StarsCoin for incomplete Steps will be released at 50% of the prorated value of the progress earned. Partial StarsCoin are rounded up to the highest value. For example, a BronzeStar player has earned 3 VPPs of the 5 VPPs required to complete their current Step, which offers a reward of 7 StarsCoin. 50% of the prorated value is (3/5 x 7 SC)/2 = 2.1. The player will receive 5 StarsCoin after rounding up.
Can you give some examples of progression through the Steps?
BronzeStar players will start the month on Step 1 of BronzeStar. If they then achieve ChromeStar status they will be on Step 6 of ChromeStar, which is the Step associated with 100 monthly VPPs. Note that they won't need to complete Steps 1-5 of ChromeStar, since they effectively completed those while playing through the BronzeStar Steps. At the beginning of the next month, they would start on ChromeStar Step 1.
A SilverStar player starts the month on SilverStar Step 1. They will need to complete 5 Steps to maintain SilverStar status (the equivalent of 500 monthly VPPs). Once those 5 Steps are completed they will be on Step 6 of 20, with 14 more Steps needed to achieve GoldStar status.
Can I hide the progress bar at the table?
If you don't want to see the progress bar on your tables, you can choose to hide it - as well as customize whether or not to receive related alerts and notifications - by going to the PokerStars lobby and selecting 'Settings' > 'VIP' > 'VIP Club Progress Bar'. If you hide the progress bar, you will still earn StarsCoin as the system will continue to work in the background.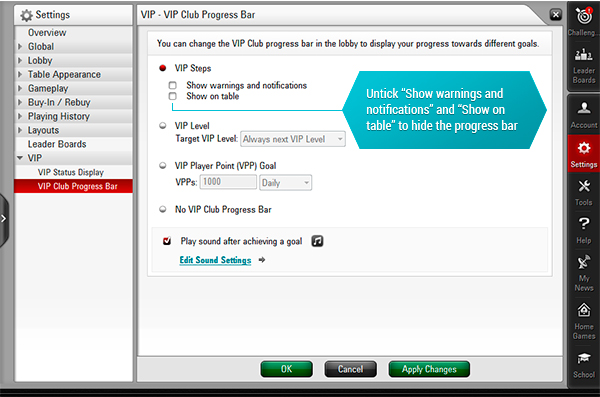 How many Steps must be completed to reach each VIP status, and how much StarsCoin do I earn for completing a Step?
A table detailing the number of Steps required for each status and their StarsCoin value can be found here.
Contact vipsteps@pokerstarsnj.com if you have any questions about VIP Steps.