Play for Real Money Using Resorts Casino Cage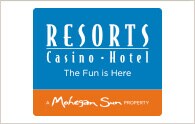 What is the Resorts Casino Cage?
The Resorts Casino option allows you to make cash transfers directly to and from your Stars Account in person from the cashier cage within Resorts Casino and Hotel, Atlantic City. For directions to the casino, please click here.
The resort that brought gaming to Atlantic City in 1978, Resorts Casino Hotel is at the top of its game today, offering world-class casino action in a relaxed environment that keeps the focus on fun. Resorts Casino Hotel made history as the first American casino outside of Nevada. It celebrated its 35th anniversary in May 2013 with a new milestone: a $35-million Margaritaville casino and entertainment complex by Jimmy Buffett that includes, among other attractions, the only full-service, year-round on-the-beach bar in Atlantic City.
Mohegan Gaming Advisors assumed management of Resorts Casino Hotel in Fall 2012 – a move that has set the stage for the most exciting gaming destination in Atlantic City and has created significant cross-marketing opportunities between Resorts Casino Hotel and MGA-operated Mohegan Sun in Uncasville, Connecticut and Mohegan Sun at Pocono Downs in Pennsylvania. Most notably, reward club members of each now have the ability to use earned points in all three locations.
How can I make deposits using the Resorts Casino Cage?
To deposit cash directly to your Stars Account, simply visit the cashier cage within Resorts Casino and Hotel in Atlantic City. You will need to provide your Stars Account details along with the amount you wish to deposit in cash, valid government issued photographic ID such as a passport or driver's license, and confirm the last four digits of your Social Security Number for added security.
Once the transaction is complete, you will receive a confirmation email and the funds will be instantly available in your Stars Account.
What are the deposit limits for the Resorts Casino Cage?
Please visit the Cashier for your current deposit limits.
What about my withdrawals?
You may withdraw funds from your Stars Account and collect cash at the cage. To do this, please initiate your request using the Cashier. Once approved, you will receive a confirmation email to confirm that your funds are ready for pickup at the cashier cage - you will then have 14 days to pick up your funds; if you don't collect your funds within the specified period, your withdrawal will be rejected and funds re-credited to your Stars Account balance.
Please Note: if you request a withdrawal at the cashier cage without initiating the transaction using the Cashier in our game lobby, you will need to wait a short period for the request to be reviewed and approved before you can collect your funds.
Please visit our Withdrawal Policy for full information.
What will it cost me to use the Resorts Casino Cage?
Neither we nor the Resorts Casino Cage charge any fees for using the Resorts Casino Cage.
Back to Real Money main page.